[LOS ANGELES - 1.10.2021]
Some of the domestic terrorists who took part in the murderous coup attempt in Washington DC on January 6, 2021 have been captured. This is thanks in part to social media posts by the terrorists themselves and others who recognized the terrorists and reported them. The FBI and many other police organizations have turned to social media and blog threads to obtain the faces and names of the violent domestic terrorists and other participants of the coup attempt.
One social media blog that is showing media posts made by coup participants themselves is Phoenix On Wheels on Tumblr, phoenixonwheels.tumblr.com. Phoenix On Wheel has identified many of the traitors and coup participants. In fact, Phoenix On Wheels indicated his blog postings have been threatened by one of the participants in the coup attempt, Ben Thomas Crocker, as well. However, Phoenix has continued to post their names and faces. OLANews is reposting some of their pictures and names from his blog here. OLANews has also identified others that have been published in widespread on many news organizations' broadcasts, newspapers, websites, threads, and on other public and social media sites.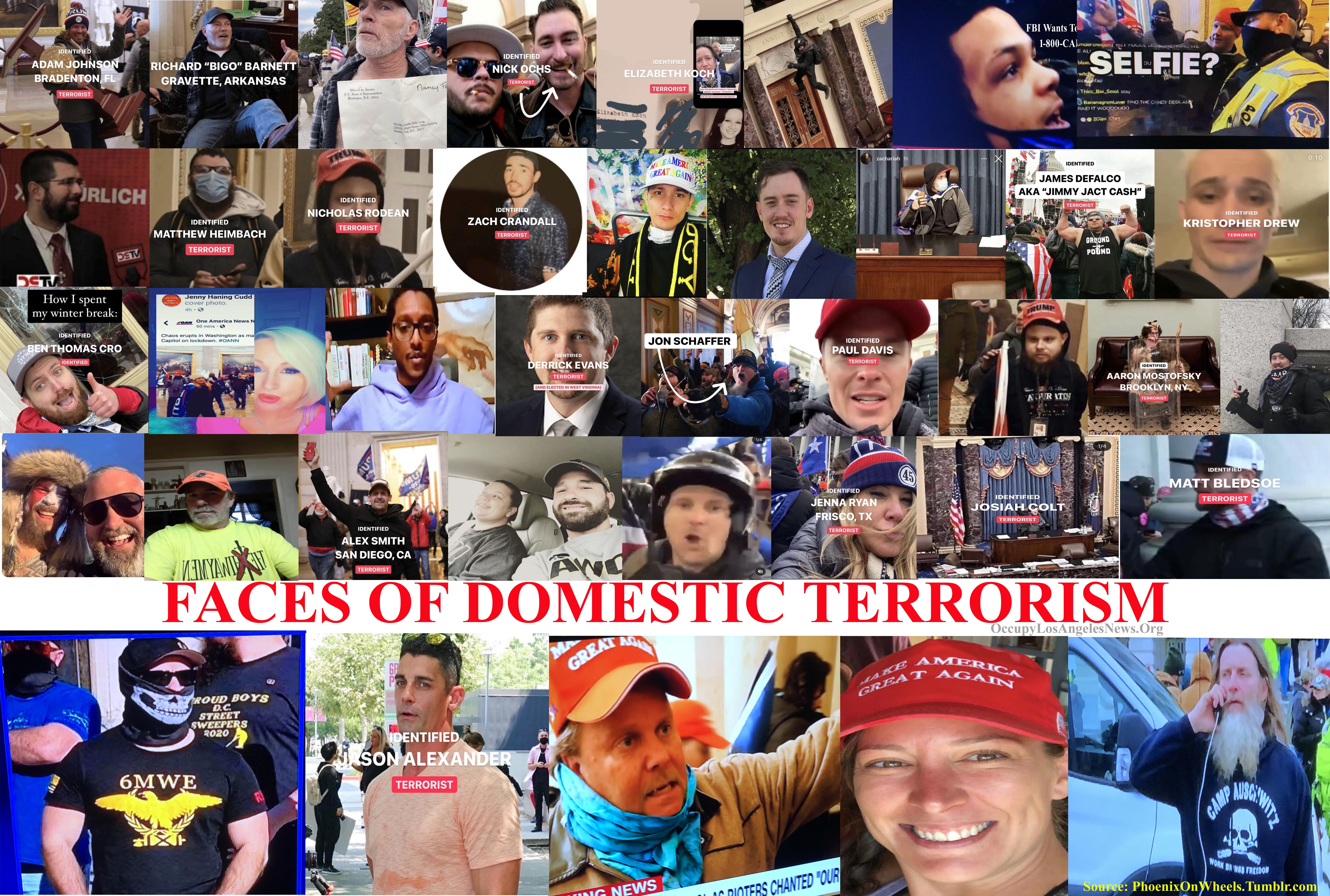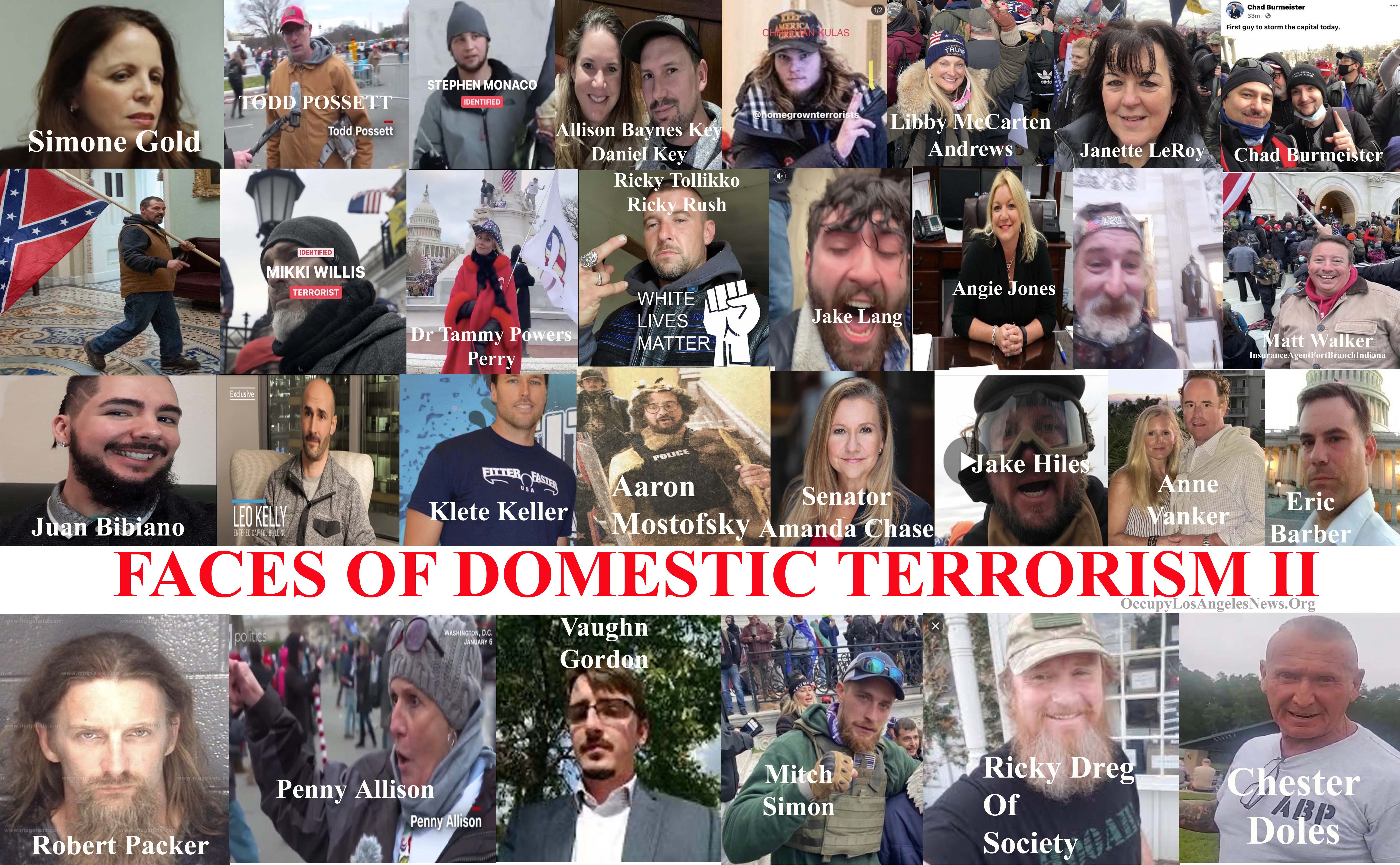 Phoenix On Wheels has identified the following people as terrorists and participants in the coup attempt in Washington DC: Adam Johnson (Braxton Florida), Ben Thomas Crocker (former Navy Intelligence), Christian Kulas, Lake Forest Illinois (took a selfie from inside the US Capitol), Jake Hiles, (owner of Matador Charters in Virginia Beach, Virginia) said on his social feed "feeling cute….might start a revolution later. IDK., Joe Visconti ("tear gassed while trying to overthrow the US Government"), "Ricky Tollikko aka Ricky Rush, white supremacist from Calgary, Alberta, Canada," "New York City-based Jake Lang, self-styled libertarian activist and entrepreneur, was among the domestic terrorists who were pepper sprayed by authorities while storming the Capitol," "Nicholas Joseph "Nick" Fuentes, white supremacist and Holocaust denier, and Anthime Gionet aka Baked Alaska live-streamed from inside the Capitol Building as they attempted to overthrow the government," "Pennsylvania State Senator Doug Mastriano joined the terrorists who attempted to overthrow the government this week," "Anne Vanker, Michigan State University graduate and resident of Grosse Pointe, Michigan, posted photos she took after climbing the scaffolding outside the Capitol Building," "Brandon Straka, hair stylist and domestic terrorist from New York City, was driven back by tear gas as he rushed the Capitol Building," "Dan Lambert, former James Madison University student and owner of the Tie Dye Store in Pigeon Forge, Tennessee, took a selfie in the crowd before he stormed the Capitol," "Janette LeRoy, a real estate agent with Berkshire Hathaway Home Services from Stanford, Virginia, joined the insurrectionists who attempted to overthrow the government," "Libby McCarten Andrews, Chicago realtor and owner of WorldOLuxe, participated in a violent coup," "Nazi Chester Doles of Georgia was among the domestic terrorists who stormed the US Capitol building," "Conservative political commentator and racist Mindy Robinson joined her fellow domestic terrorists in D.C. for an attempted coup," "Penny Elaine Allison of Port Orange, Florida, joined her fellow domestic terrorists in a violent attempt," "Todd Possett, President of Navigator Mortgage Banking, LLC, in Middleville, Michigan, says he's "1000% proud" of his participation in the violent attempted coup," "Leandra Blades of Yorba Linda, California, who is currently running for school board for the Placentia-Yorba Linda Unified School District, took a "girls weekend" with her friends Geneva Slawson and Dora Vargas to travel from Orange County, California, to Washington D.C. to try to overthrow the federal government. These All-American domestic terrorists are currently claiming that it was "ANTIFA dressed as Patriots" and not the thousands of Nazis and racists they joined in D.C. who were responsible for the violence," "Political Consultant/Activist David Medina aka David Anthony travelled from Oregon to Washington D.C. this week to participate in a violent coup attempt," "Glen Mitchell "Mitch" Simon, owner of Omega Tree Service in Simon, Georgia, and known Nazi and white supremacist, live-streamed his part in the violent attempted overthrow of the US government," "Sarah Grace Allen and Will Allen, owners and operators of Momma Rabbit's Nibbles & Sips in Lexington, South Carolina, were tear-gassed while on the steps and climbing over the walls," "Matt Walker, State Farm Agent from Fort Branch, Indiana, stormed the Capitol with his father, Wayne Walker, stopping to take a few selfies along the way." Source: Phoenix On Wheels on Tumblr, phoenixonwheels.tumblr.com.
___________________________________________________________