[LOS ANGELES - JUNE 6, 2020]
Protests against police killings, abuse, and brutality have engulfed the United States. The protests began shortly after George Floyd, an African American man, was murdered in Minneapolis Minnesota two weeks ago by police officers. The largest protest to date, estimated to exceed six thousand, is occuring today in Washington DC.
Mr. Floyd was initially accused of passing a fake $20 bill off to a convience store clerk as he purchased a pack cigarettes. Two store workers confronted Mr. Floyd outside and demanded the cigarettes be returned. Mr. Floyd refused and the Minneapolis police were called.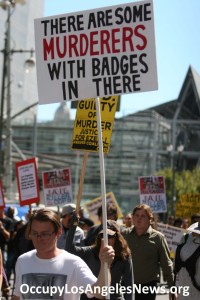 Four police responded including police officer Derek Chauvin. Chauvin used his kneed to restrain Mr. Floyd's face and neck to the ground while Floyd was handicuffed and not resisting arrest. Chauvin continued to hold Mr. Floyd there for eight minutes and forty-six seconds. Floyd died while pleading for his life indicating "I can't breathe." George Floyd also called out for his mother who preceded him in death several months earlier. Chauvin has been arrested and charged with second degree murder, a felony.
Tou Thao, J Alexander Kueng and Thomas Lane are the other three responbding officers and each of them have been charged with "aiding and abetting second-degree murder while committing a felony, and with aiding and abetting second-degree manslaughter with culpable negligence."